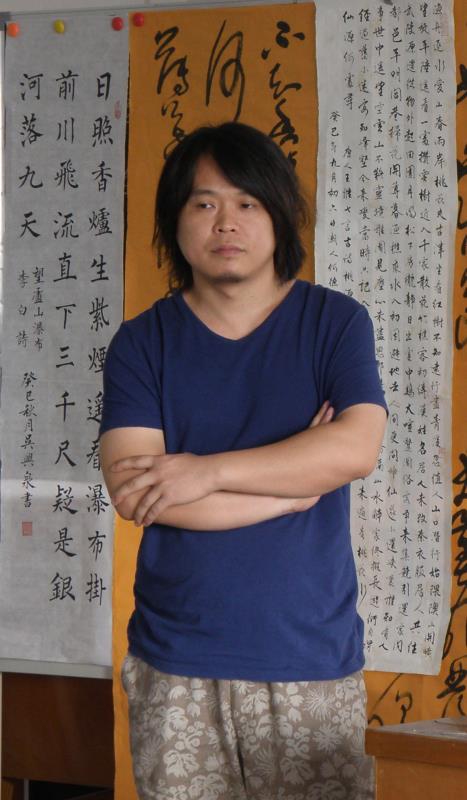 徐和勇本科毕业于景德镇陶瓷学院陶瓷设计专业,硕士毕业于首都师范大学中国书法文化研究院书法与汉字研究方向,导师解小青教授。2009年毕业后进入全国最大的书法媒体"书法报"担任编辑,记者,编辑部副主任。2011年创办"书法学报"并任主编。2015年年创办景德镇爱笔墨书法工作室2016年担任江西陶瓷工艺美术职业技术学院特聘书法教师。2017年年创办"书法家"报并任主编。从事书法教学,编辑,研究,创作13年。
Xu Heyong graduated from Jingdezhen Ceramic Institutewith a major in ceramic design. He graduated from the Chinese Calligraphy andCulture Institute of Capital Normal University with a focus on calligraphy andChinese characters. His tutor was Professor Xiao Xiaoqing. After graduating in2009, he entered the country's largest calligraphy media, the "CalligraphyNewspaper" as an editor, journalist and deputy director of the editorialdepartment. In 2011, he founded the Journal of Calligraphy and was theeditor-in-chief. In 2015, he founded Jingdezhen "Love Pen and Ink" CalligraphyStudio in 2016 as a special calligraphy teacher of Jiangxi Ceramics Arts andCrafts Vocational and Technical College. In 2017, he founded the"Calligrapher" newspaper and served as editor-in-chief,and he engagedin calligraphy teaching, editing, research, and creation for 13 years.
His uncle Name is Li Weihua;
County name: Wannian County, Jiangxi Province;University name: Jingdezhen Ceramic Institute; lover name: Kong Li, Confucius75th generation, graduated from Shandong Qufu Normal University, Department of Calligraphy.